AMONG OUR MANY MINISTRIES HERE AT DSBC THERE IS ONE NOT SPOKEN OF OFTEN, BUT, THAT HAS IMPACTED MANY LIVES IN PLACES AROUND THE WORLD. THAT IS OUR CRAFT LADIES. THIS GROUP OF LADIES MEETS EVERY MONDAY FROM 10AM – 12 NOON. THEY LOVE FOR NEW PEOPLE TO COME AND HELP IN THEIR MINISTRY.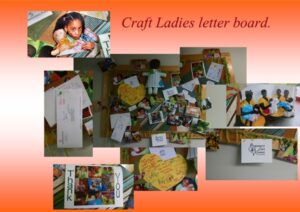 On Monday mornings, our DSBC Craft Ladies are reaching out and touching lives around the world. The group started in a ladies Sunday School class just after the earthquake in Haiti in 2010. The group began making dolls to send to the relief effort. It quickly grew from there. As word got out about the group, other needs began to be met and craft materials began to flow in. God's hand can be seen through out the ministry as He has provided almost 100% of the supplies needed for it to continue.
The group has sent items around the world in it's short history. Locations include, Haiti, Mexico and Guatemala, as well as many locations here in the US and our own community. Handmade dolls, quilts, pillows, hearts and other items have been sent to prison ministries, shut-ins and rest homes. Annual donations by the group are made to the Hope Box ministry in KY as well as scarves and hats sent to NYC.
Another part of the craft group is a card ministry. Weekly cards are sent to people on our prayer list and shut-ins. Many members of our church and community have been encouraged by a hand written card during the loss of a loved one or time spent home sick or in the hospital.
If you would to join the group or have materials you would like to donate, they meet every Monday morning from 10-12 AM. Please see Debbie Shook or Lynda Kirby to learn more about how you can help in this wonderful ministry. Please keep these ladies in your prayers as God continues to lead and do wonderful things through our church family!