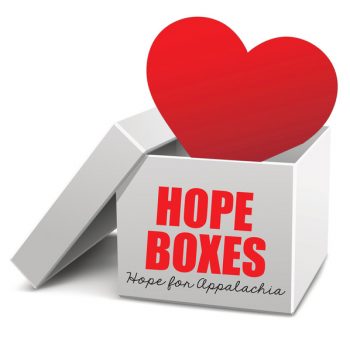 WHO ARE WE:
WE ARE DUDLEY SHOALS BAPTIST CHURCH, THE HOME BASE FOR HOPE FOR APPALACHIA IN CALDWELL COUNTY AND THE SURROUNDING COUNTIES IN OUR AREA. HOPE FOR APPALACHIA, A 501 (C)(3) NON-PROFIT ORGANIZATION, IS A NETWORK OF CHURCHES IN NORTH CAROLINA AND VIRGINIA THAT DELIVERS BASIC NECESSITIES IN A "HOPE BOX" TO CHILDREN IN SOME OF THE MOST POVERTY STRICKEN COUNTIES IN THE APPALACHIAN MOUNTAINS OF VIRGINIA, KENTUCKY, AND WEST VIRGINIA.
HOW THE MINISTRY BEGAN:
GOD OFTEN LEADS US TO PLACES THAT WE NEVER KNEW EXISTED.  WHO WOULD HAVE IMAGINED THAT A PASTOR AND HIS WIFE ON VACATION WOULD DRIVE ACROSS A MOUNTAIN AND THE RESULT OF THAT TRIP WOULD BE THE BIRTH OF A NEW MINISTRY CALLED "HOPE FOR APPALACHIA?  IN APRIL 2012, GOD LED THAT PASTOR AND HIS SMALL COUNTRY CHURCH IN CHATHAM COUNTY, NORTH CAROLINA, TO LYNCH, KENTUCKY.  THREE PUBLIC SCHOOLS IN HARLAN COUNTY INVITED THEM TO COME TO THESE SCHOOLS TO PRESENT EACH CHILD WITH A SHOE BOX FILLED WITH SCHOOL SUPPLIES, PERSONAL HYGIENE ITEMS, SOCKS, GAMES, CANDY AND MORE.  THEY WERE ALSO ALLOWED TO SHARE THE GOSPEL OF JESUS CHRIST WITH THOSE STUDENTS.  DURING THAT TRIP, THE SHOEBOXES BECAME KNOWN AS "HOPE BOXES."  THAT NAME CONTINUES TO THIS DAY.
GOD HAS RICHLY BLESSED THIS MINISTRY AND HAS USED IT IN POWERFUL WAYS TO BRING HOPE TO AN AREA OF OUR COUNTRY THAT HAS BEEN MOSTLY FORGOTTEN.  THE MINISTRY HAS GROWN FROM THOSE THREE SCHOOLS AND 900 STUDENTS THE FIRST YEAR TO NEARLY 60 SCHOOLS AND 22,000 STUDENTS THIS YEAR (APRIL 2019).  THOUSANDS OF STUDENTS AND THEIR FAMILIES HAVE BEEN TOUCHED WITH THE GOSPEL.  FOR 2020, WE HOPE TO DELIVER HOPE BOXES TO 25,000 STUDENTS.
APPALACHIA'S BACKGROUND:
THE PRIMARY SOURCE OF INCOME OF THIS REMOTE REGION OF HILLTOPS AND DIRT ROADS WAS THE COAL INDUSTRY. BUT WHEN THE NATION STARTED SHIFTING AWAY FROM THE COAL-FIRED POWER PLANTS, THE BIG COMPANIES BEING TO SHUT DOWN THE MINES, TAKING AWAY THOUSANDS OF JOBS.  NEARLY EVERY COUNTY IN EASTERN KENTUCKY LOST JOBS BETWEEN 2000 AND 2010. ONE-THIRD OF THE REGION NOW LIVES IN POVERTY. EVEN BEFORE THE MINES STARTED CLOSING, CHILDREN WHO GREW UP IN APPALACHIA WERE TOLD TO GET OUT IF THEY WANTED TO SUCCEED. THE REGION HAS BEEN LEFT WITHOUT HOPE AND MANY ARE IN GREAT DESPAIR AND POVERTY.
HENRY BLACKABY HAS STATED THAT TO EXPERIENCE GOD, WE SHOULD FIND WHERE HE IS AT WORK AND JOIN HIM THERE. GOD IS AT WORK IN THE APPALACHIAN MOUNTAINS.  WILL YOU JOIN US IN THIS WORK?
HOW CAN YOU HELP:
OUR GOAL HERE IN OUR AREA IS TO COLLECT 4,000 HOPE BOXES. OPPORTUNITIES ARE AVAILABLE FOR YOUR CHURCH OR GROUP TO ADOPT A CLASS, OR A GRADE LEVEL OR EVEN AN ENTIRE SCHOOL IF YOU WOULD LIKE.
OUR COLLECTION DEADLINE FOR THIS YEAR'S MISSION TRIP IS MARCH 14, 2021. HOPE BOXES CAN BE DELIVERED TO DUDLEY SHOALS BAPTIST CHURCH AT 1882 DUDLEY SHOALS RD, GRANITE FALLS, N.C. 28630, OR ARRANGEMENTS CAN BE MADE FOR US TO PICK THEM UP.  IF YOU WOULD LIKE TO LEARN MORE ABOUT THIS MINISTRY, PLEASE CONTACT DUDLEY SHOALS BAPTIST CHURCH AT (828)-396-7300